Montessori Minds Childcare and Kindergarten in Geelong
is now open
Where work and play come together
A
unique

and

engaging

learning environment.
Montessori education harness a child's natural interest in a subject. The fact that the focus of each Montessori exercise is on one educational concept means that children are able to work independently and check their own work.
Academics and knowledge-building are key qualities of Montessori, as is the ability to think creatively and understand the needs of others.
Montessori education builds a child's capability to become a fulfilled and productive adult able to contribute to the world—at home, at work, and in their community.
Maria Montessori's observation of human development from birth to adulthood led to an education approach that supports children's natural development, providing the skills and support to reach their full potential in life.
With a strong emotional, behavioural, and moral foundation, children become motivated, active, and independent learners who are prepared for the real world.
read more
We are dedicated to the care and education
Our Educational Programs
Unlike traditional classrooms, Montessori learning program are designed to fit the specific needs of each child's stage of development. Learning is all about the activity and independence of the child to find out what they need at each particular moment. The Montessori approach provides children with enduring intellectual capabilities, achieved through the framework of social and emotional learning.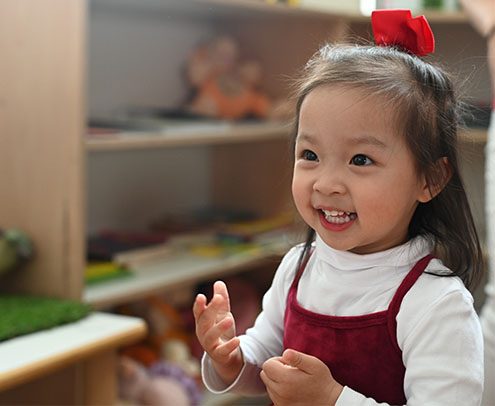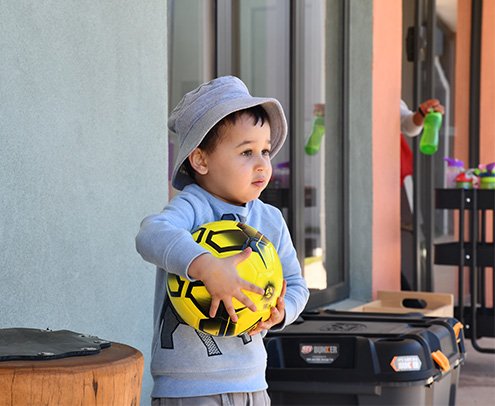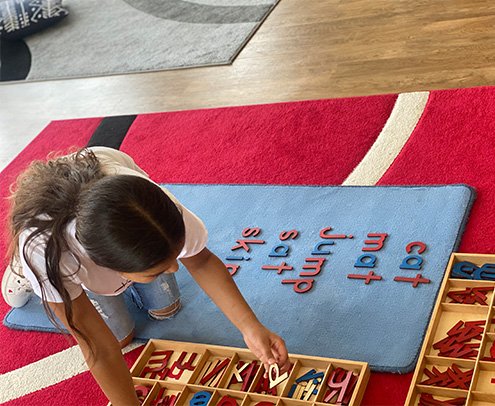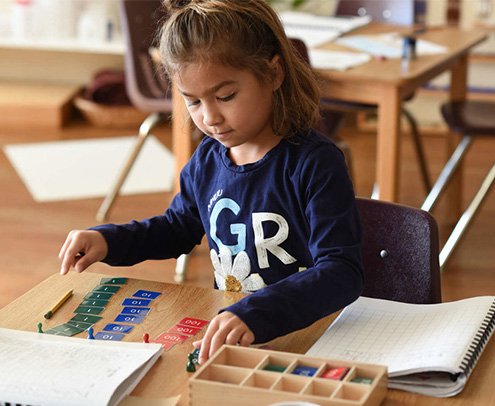 We provide the main activities
Montessori

Education
Each child is special. Each child is unique. Children can develop without pre-determined rules, but they need individual guidance and educational materials that encourage and promote this development. We believe in personal growth and offer the necessary tools to support this.
Our material meets the demands made by Dr Maria Montessori's educational method regarding spontaneous learning. This high quality Montessori education provides children with the tools they need to become independent and critical thinkers.
read more
Curriculum
Elements
Practical Life
Sensorial
Language
Mathematics
Biology

Commitment and
Passion
A specially trained teacher guides the children in such a way that they learn to work independently and with a specific aim.
This teacher creates a 'prepared environment' – whereby the educational materials are available to the children in a specifically structured way. A Montessori prepared environment provides a various developmental opportunity for children which includes movement, challenging work, concentration and freedom.
Environment also provided the resources and activities that captures child's interest and develops interest in purposeful activities requiring concentration and judgement.
"The Prepared Environment Is for Independence and Growth. The first aim of the prepared environment is to render the growing child independence of the adult. This is, it is a place where he can do things for himself – live his own life – without the immediate help of adult.Therefore the environment is the place where the children are to be increasingly active and the teacher is increasingly passive."
Maria Montessori, Her Life and Work

Read on to understand our differences
Why Choose Montessori Minds Childcare and Kindergarten in Geelong
Home-like Environment

Children are comfortable and confident in their home, feeling safe and secure to explore and learn.

Culture of Honour

We aim to help all people that come into contact with Montessori Minds Childcare and Kindergarten in Geelong to feel Significant, Appreciated and Understood.

Orientation Process

Makes the process of you and your child settling into care with Montessori Minds Childcare and Kindergarten in Geelong that much smoother.

Quality Educators

Highly qualified educators, including Montessori-qualified Directress, Early Childhood Teachers and Early Childhood Educators. We believe that educators play a huge role in quality child care & delivering Montessori program.

State of Art Building

State of Art building with high ceiling & a lot of natural light in all rooms. Modern , well-ventilated classrooms, Nienhuis (AMI approved) materials / furniture throughout from Netherlands.

Digitally equipped

Digitally equipped processes in place like sign in / out, statements, weekly updates of children in Storypark TM

Customised Outdoor Area

Customised outdoor area for fun and learning

High standard Meals

High standard of Nutritious meals.

Quality Program

We are committed to providing a learning environment of the highest quality using Montessori philosophy and principles as the foundation.

Advanced Kindergarten program blend with EYLF and Montessori Framework. The Montessori curriculum are strongly linked to the Early Years Learning Framework (EYLF) and embracing the requirements of the National Quality Framework (NQF).
Want to know more about us?
Centre Information

We believe children learn by building on the knowledge they already have – primarily exhibited through play. Teachers help children learn by creating a rich environment to explore via exciting educational activities.

Positive, Safe Environment – We are committed to providing an uplifting and positive atmosphere for our children and staff; a fun learning experience in a secure, safe, and loving environment.
Leadership – We are committed to lead; developing, monitoring, and empowering our children and our staff to reach their full potential.

Excellence – We are committed to achieve the greatest levels of excellence in childcare, in education and in everything we do; being highly professional, innovative, creative, efficient, and effective.

Respect – We are committed to building strong, healthy relationships with each other, our children & their families, along with the community through communication and understanding of the cultures around us.

Integrity – We are committed to carry out our mission.
We have a focus on recruiting and retaining quality teachers and offer competitive remuneration, good student discipline and relatively small class sizes
If you have feedback or words of praise that you would like to share, please submit your review at the bottom of this page.
Shalini & Sandeep

"We want to express our sincere gratitude to all the teachers who have contributed to Sasha's growth and curiosity for learning. We value your work so much . We adore you so much and appreciate all your care and commitment to our child's education. You're one in a million!

We have always and also in future would be highly recommending your centre .

Keep up the good work!

Keep shining bright!"

Gagan and Sweeny

"We just wanted to write to you and thank you for looking after Arjoe whilst she is in Montessori. You have been very kind and supportive to us and our Arjoe during this transition.

It was a difficult decision for us as a family to send Arjoe to childcare at such an early age. However, because of support of all of you, we feel very confident that she is in the right hands.

Please continue to do the awesome work that you are doing and I am sure Arjoe will have loads of fun at Montessori in months and years to come :)"

Nilham

"I can not express in words how thankful I am to the Bluebell room staff ! When my son has moved from other centre, he was very disturbed and upset. The staff including Kira and Poonam has worked with him really patiently and help him to settle with their unconditional love and care.

They have put extra efforts to understand him well and help him to grow in his own preferred way.I have seen massive improvement in my little man after he joined the Montessori . I certainly say that I can go to work with peace of mind when he is with the very capable and loving hands!

I highly appreciate the efforts from Kira to achieve the monthly goals for my son and also her amazing support!

Thanks to all Bluebell staff! You are Rockstars"